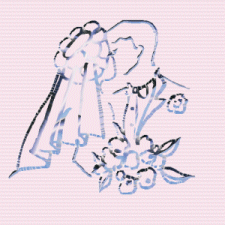 We met in Kingston Ontario Canada in 1995, after 6 months of being togeter Chris proposed and of course, I said YES. He was in the army at this time which gave us a few obstacles to overcome! but In November I moved to New Hampshire, USA, and Chris took me up north it is the most beautifull place. So we were walking around the waterfall and we decidet to sit down on two big rocks and we started talking and Chris ask me " If you had a chance would you marry me" I looked at him and didn't know what to say! So I told him yes of course I would...... So he looked at me with his puppy eyes and asked " Will you marry Me" Me being so shocke i stood up and said yes I will marry you. Chris put the ring on my finger and kissed me. So we started planing our wedding and we were married on October 7th 1995. We didn't have a big wedding, but the day was a very special one for both of us.
The Wedding and Reception was held at: My parents Inlaw house it was very nice of them to let us use there house.
We didn't have much money or much of anything, so we moved in with his parents. We lived with his parents for awile. In April of 1997 Chris & I we got our own appartment and We finally got a chance to spend time together and really get to know each other.
The relationship flourished and we grew much closer. We started talking about our future together and thought about haveing kids but we were still to young. So we kept on trying but had no sucess at it. After awile we decidet to stop trying and we did. In may 1999 i found out I was pregnant and we decidet not to find out if it was a Boy or a Girl we wanted to be very suprised and we were. On febuary 20,2000 we had a baby boy we named him Brandon Christopher Martin. We were so happy to finally see our baby after 9 moths, and know we are very happy parents.
Um.... The font that I am using is CAC CHAMPAGNE which you can get it
HERE